Day 9: Dai Lanh – Song Cau Town
Overcoming Ca Pass, I got to Tuy Hoa then decided to visit Da Dia Rapids, which is located 14 kilometers from AH1. Road there is concrete, and it has up-and-down parts.
At first I tended to spend the night there in Da Dia Rapids but finally decided not to do it. The security man there is with a sense of humor. It costs you 10000 VND for the Entry Ticket.
In the evening, I spent all my existing strength and effort riding to Quy Nhon. When it did not come to Song Cau Town, I was exhausted. 7pm, I stopped at a coffee shop on the way to take a rest. A nice shop owner told me to stay there for night because it was too dark outside to keep going. "I would fence the net around the shop" – said she.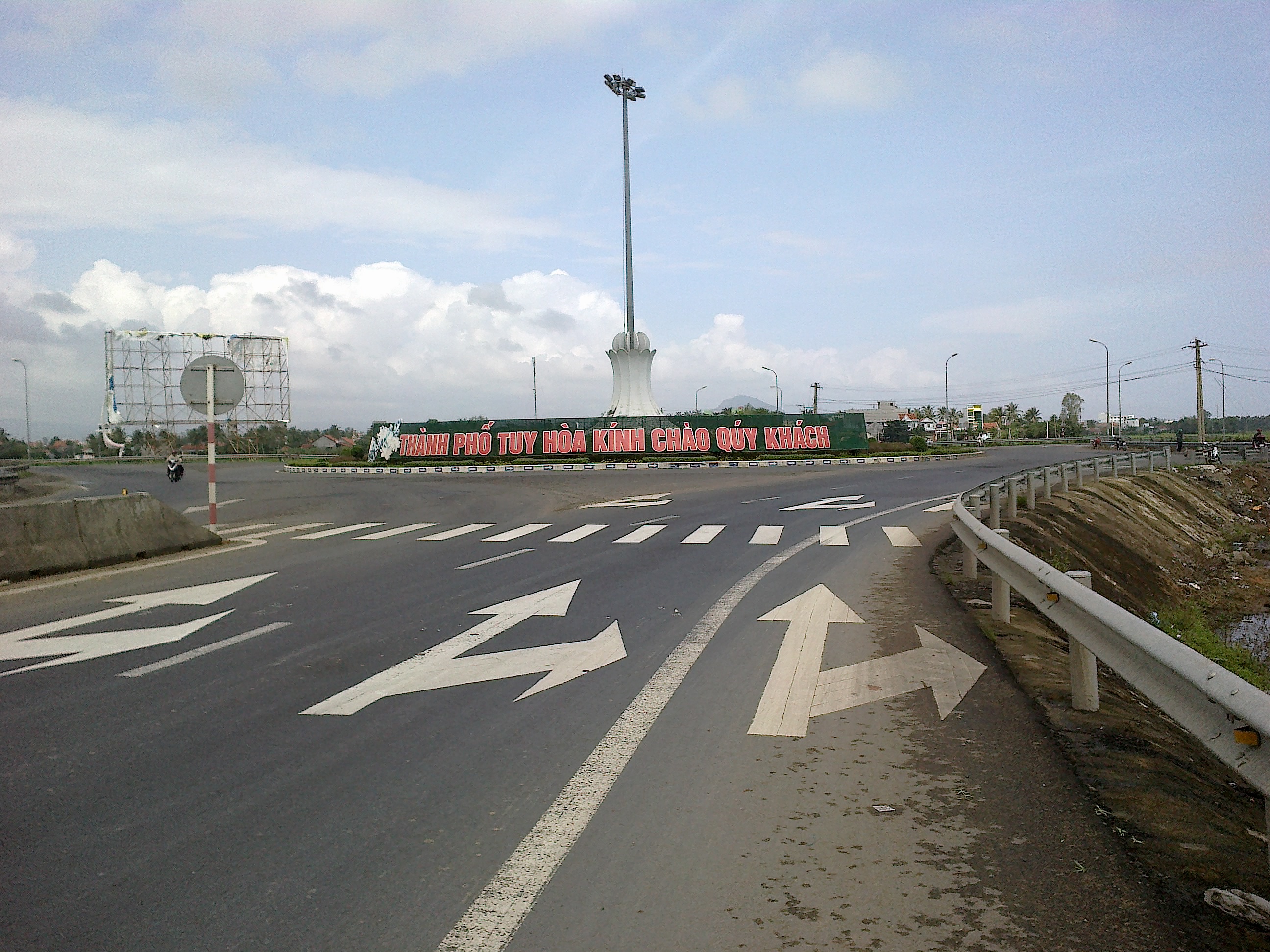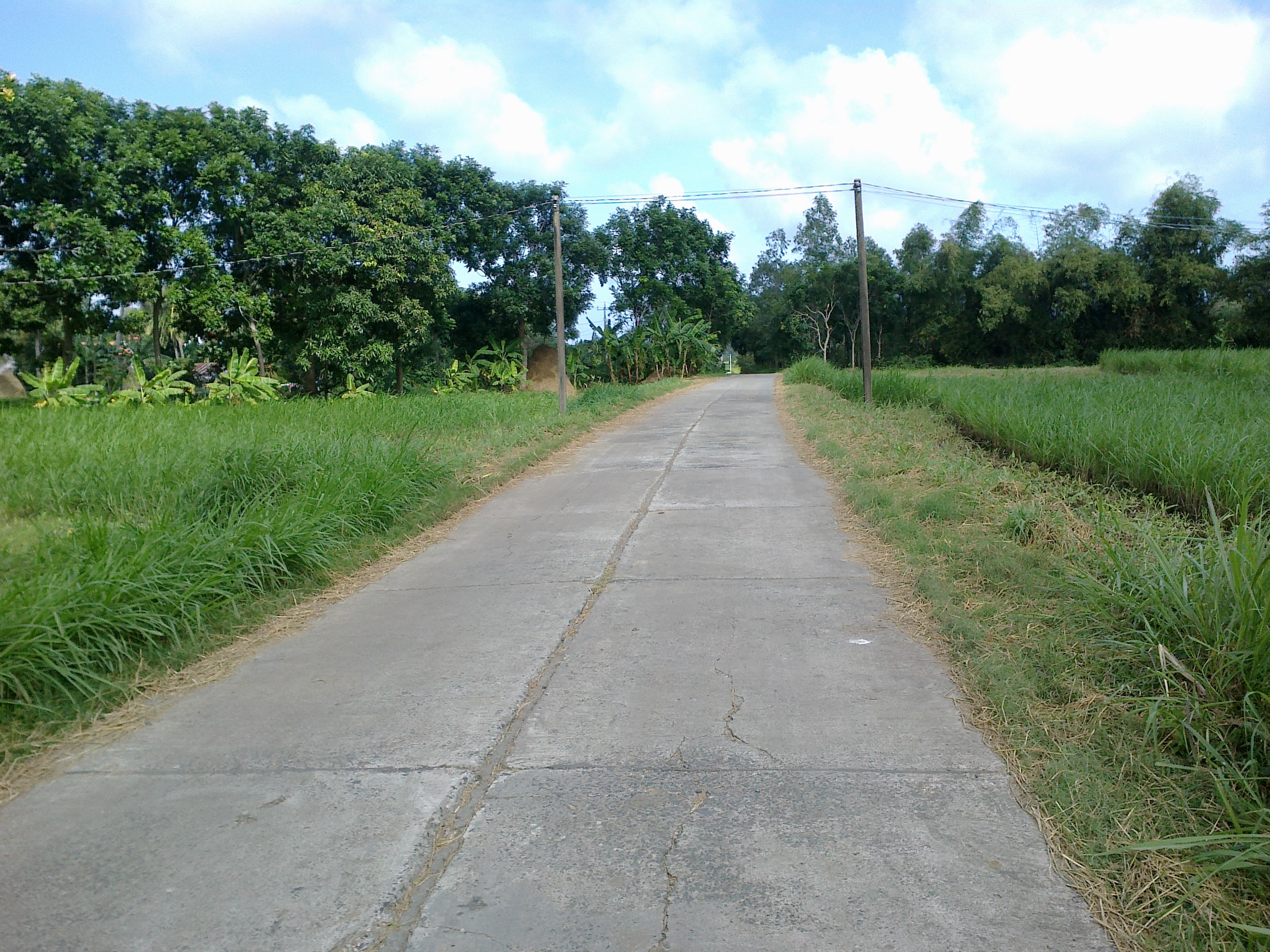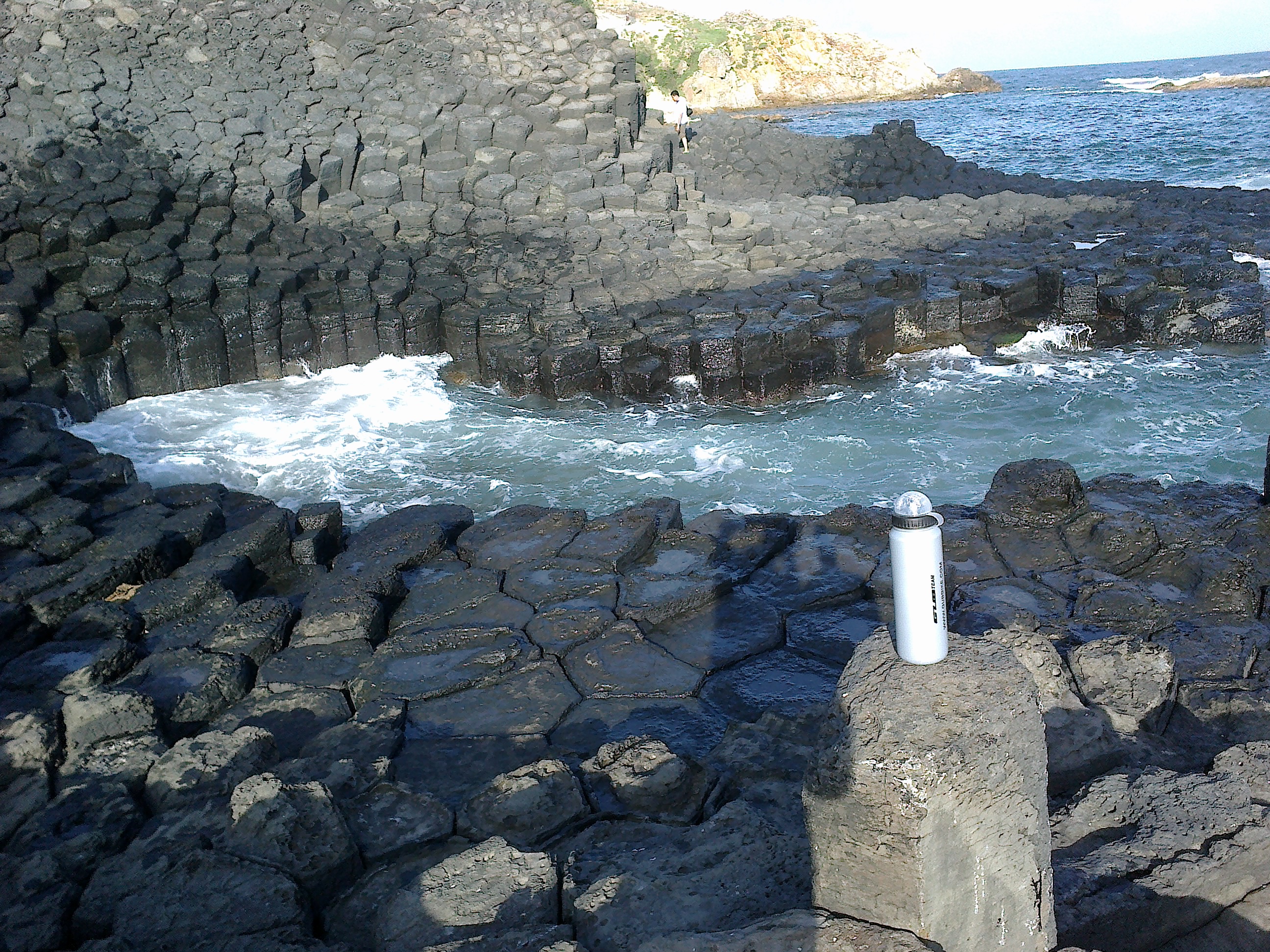 That night I slept so well on the hammock until midnight. It then rains cats and dogs. And you know what? It's cold 🙂
Day 10: Song Cau Town – Quy Nhon Binh Dinh
I got up quite early the next day and headed to Quy Nhon, I terribly realized that I still had one more pass to conquer: Cu Mong Pass. Is my plan to get to Quy Nhon yesterday feasible? I took a look back and…Oh.. it seems ridiculous :))
Because of sleeplessness from the night before, I was not in high spirit that day. It was at the Pass foot that I was cramp. That day I just conquered 30 or 40 kilometers. Came to Quy Nhon City, I stayed at a countryman's house.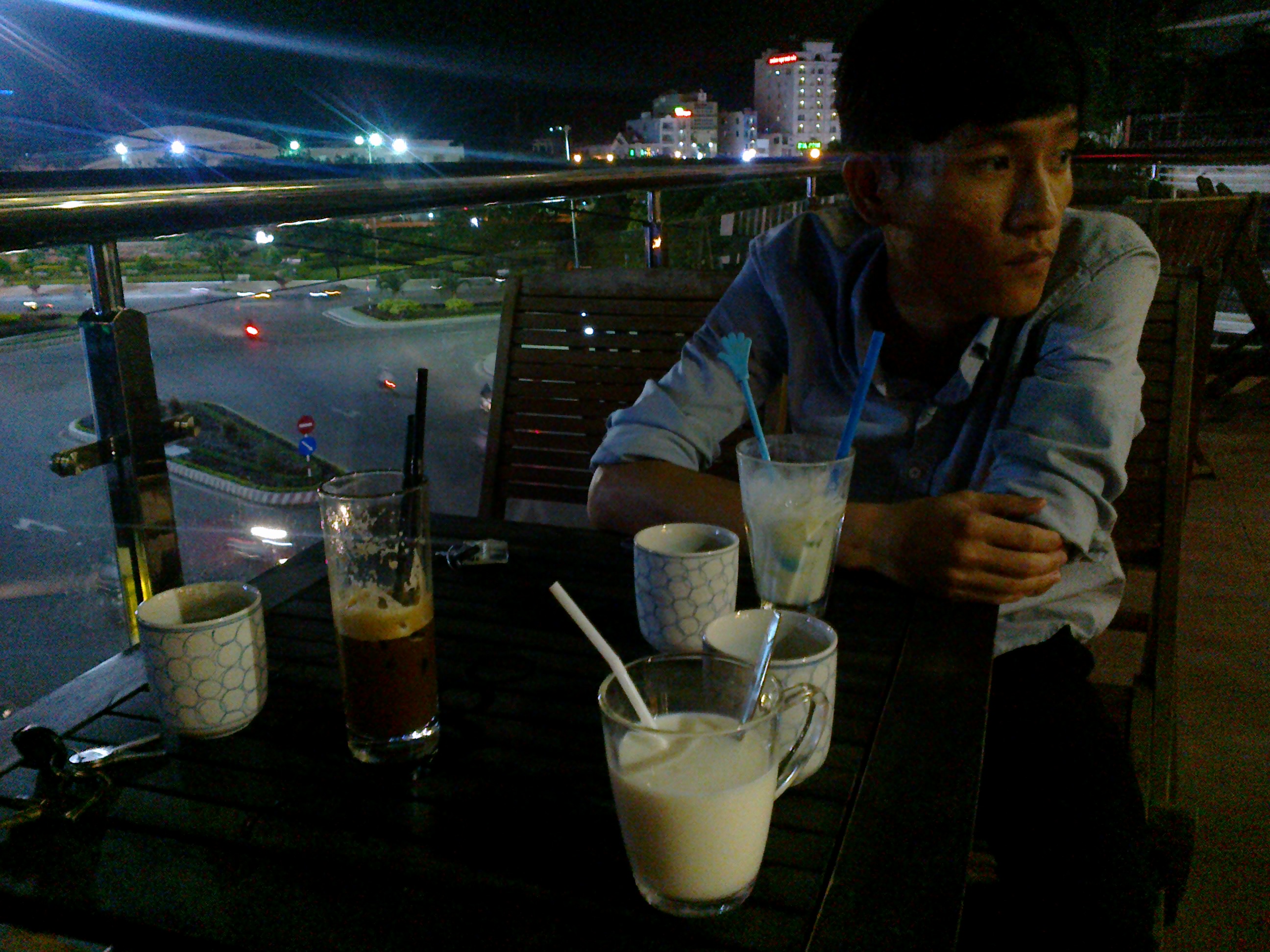 Day 11: Quy Nhon – Sa Huynh Quang Ngai
From Quy Nhon to Sa Huynh, it was so crowded. It's time that everyone is on the way coming home for the traditional Tet holiday. Flowers and apricots are full along my way. When I finally came to Sa Huynh, I tried Bun Bo Hue. It was yummy.
I spent the night in Hong Phong hostel. It is housing for workers from a nearby work. They are all friendly and humorous. The owner is a handsome guy. Age 26. So artistic. 50000VND per night for a room.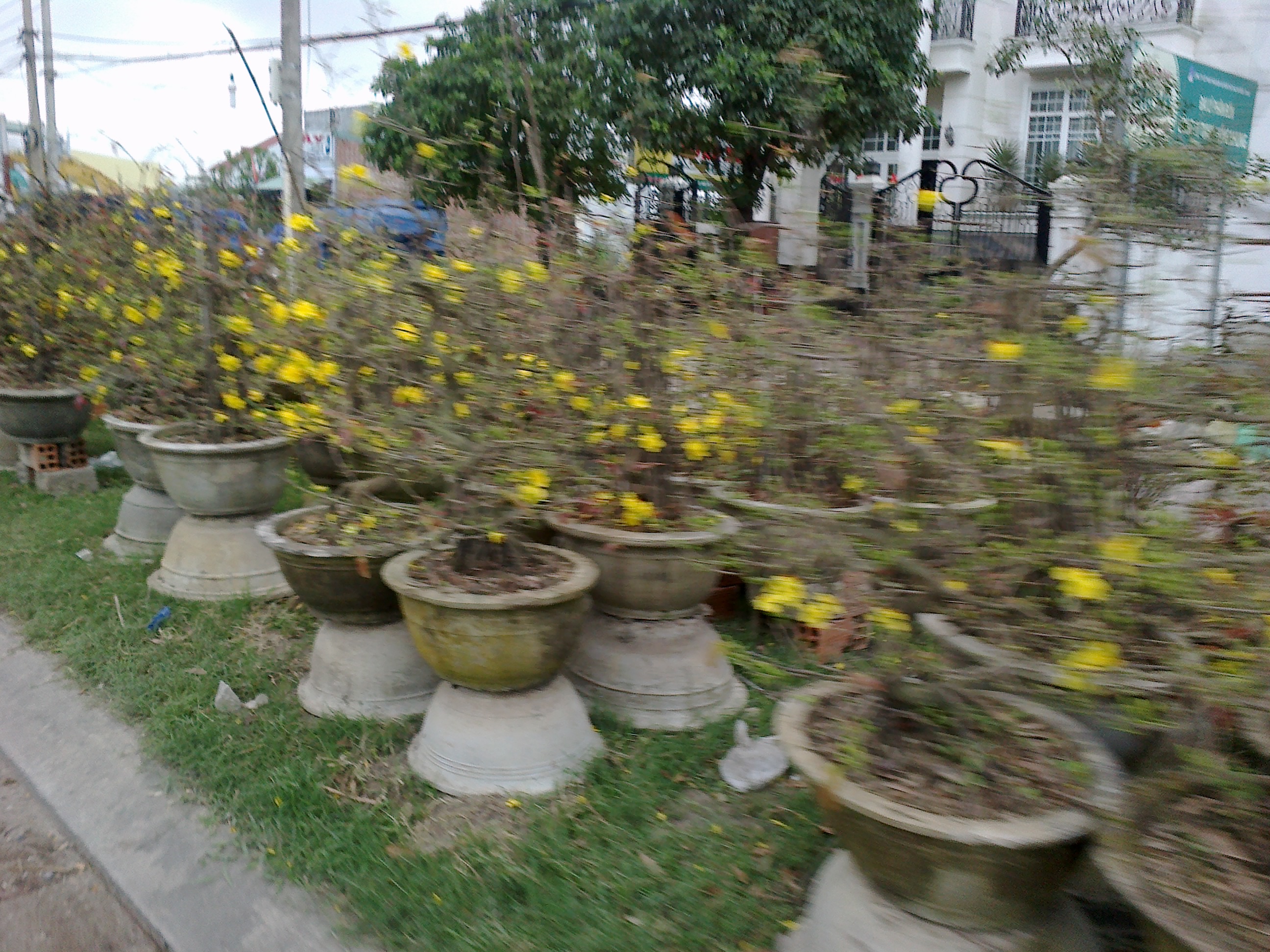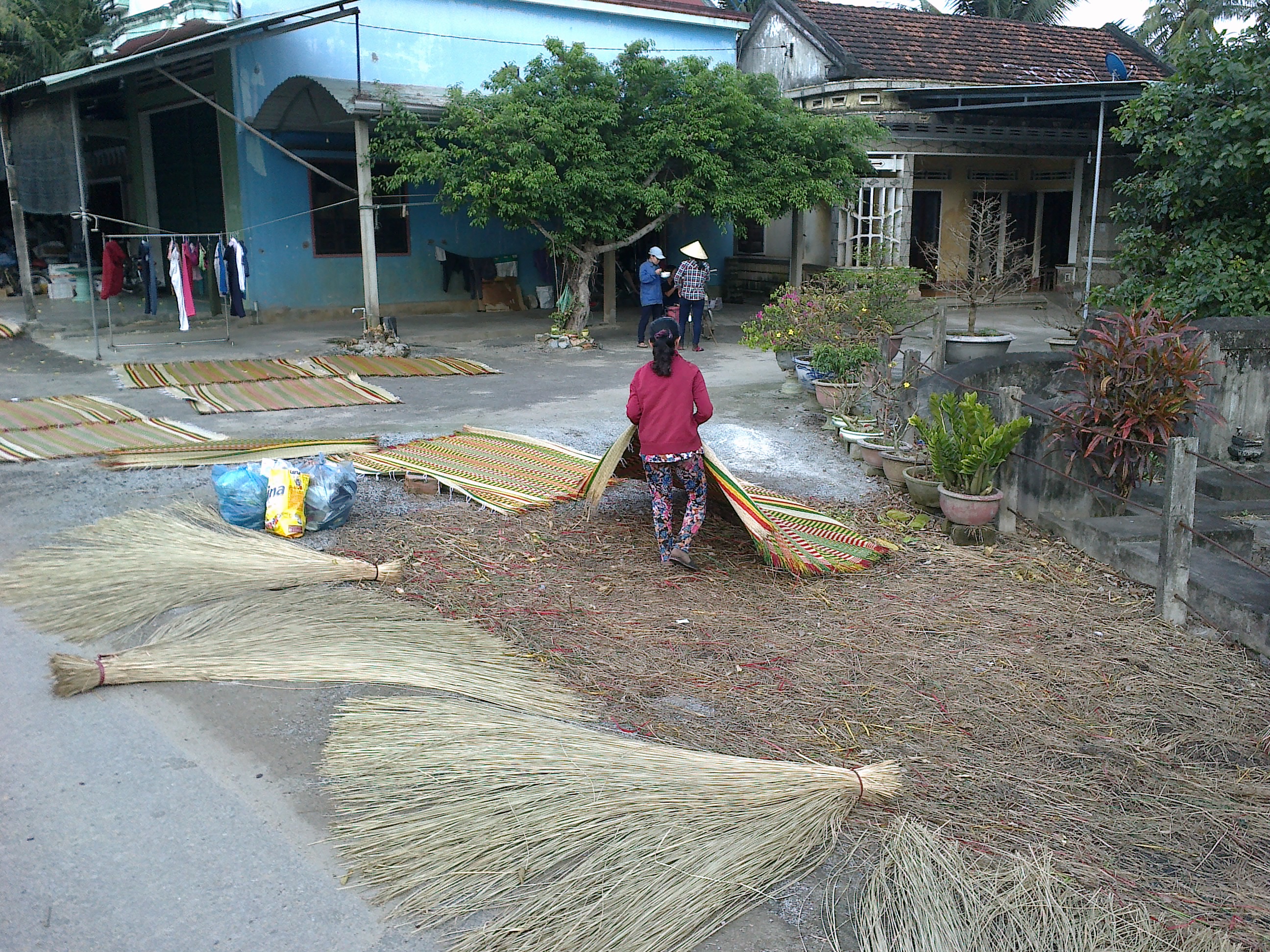 Day 12: Sa Huynh – Tam Ky Quang Nam
There is a 3-kilometer road heading to Tam Ky that is really in bad condition. And dusty. On the way, there were some foreigners who struggled with their motorbikes, trying to overcome that bad part. Poor them!
There is not anything special here in Tam Ky. No one offered me a place for night sleep, then I have to stay in front of a kiot which is not activated at night.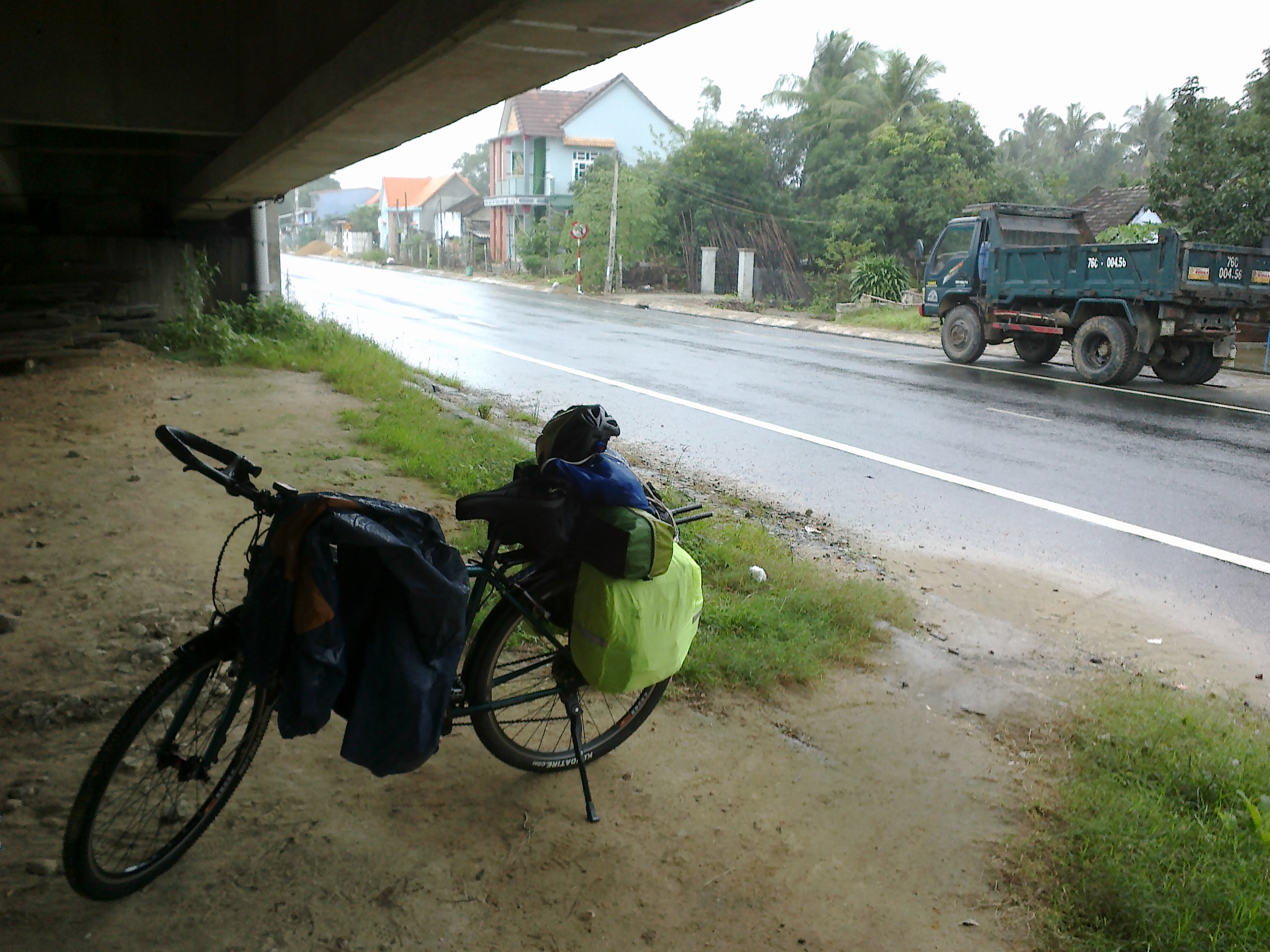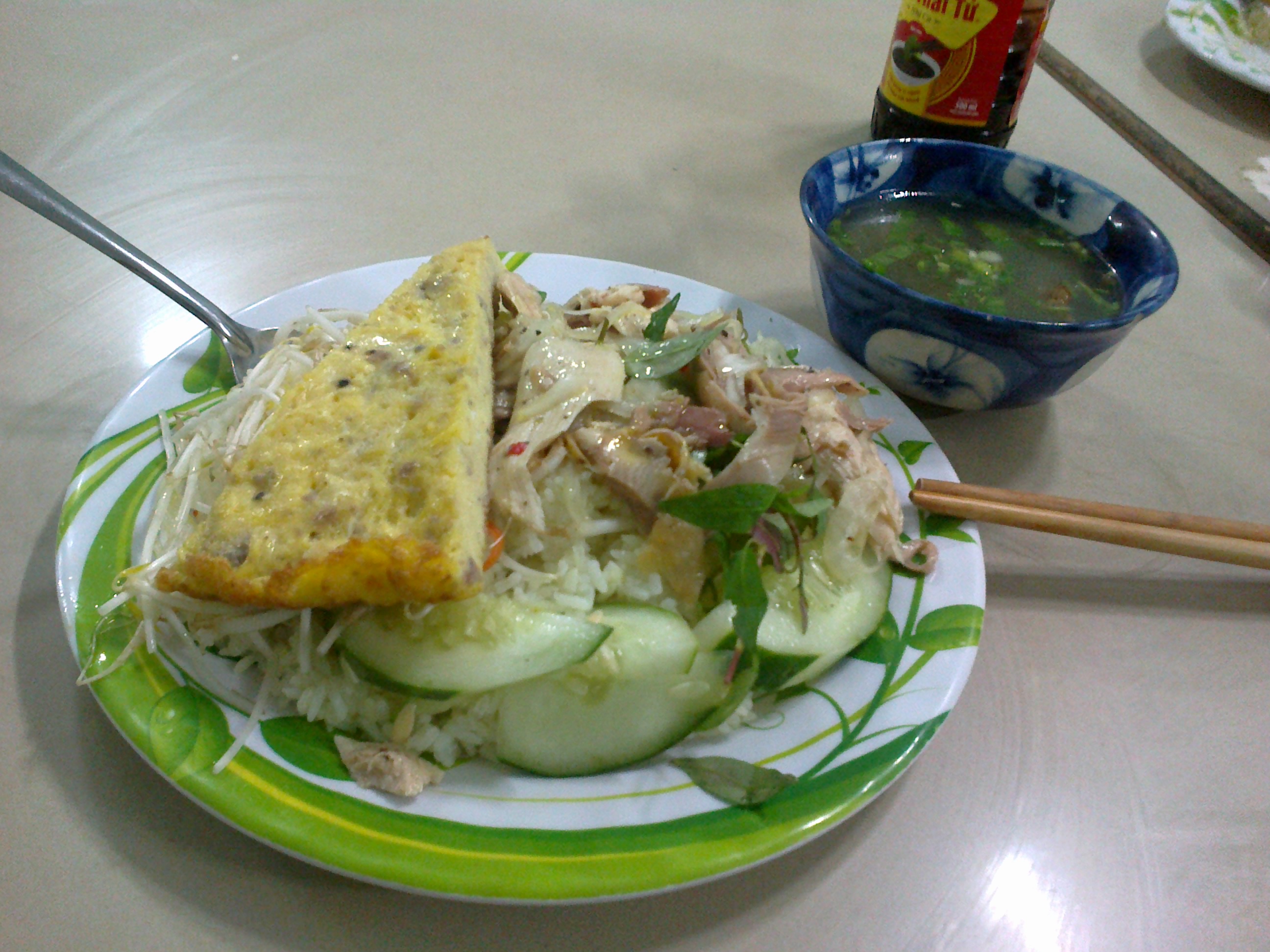 Day 13: Tam Ky – Da Nang
I visited Hoi An Ancient Town before coming to Da Nang. Da Nang is actually a familiar city to me so I don't spend too much time hanging around.
That night I stayed at my dad's room. Daddy is a train driver, he rents a room at Tran Cao Van Street, near Da Nang Diesel Enterprise. Hostels in Da Nang are quite costly. My advice for you is just come over Da Nang for visits, then try to reach an outskirt to find a hostel.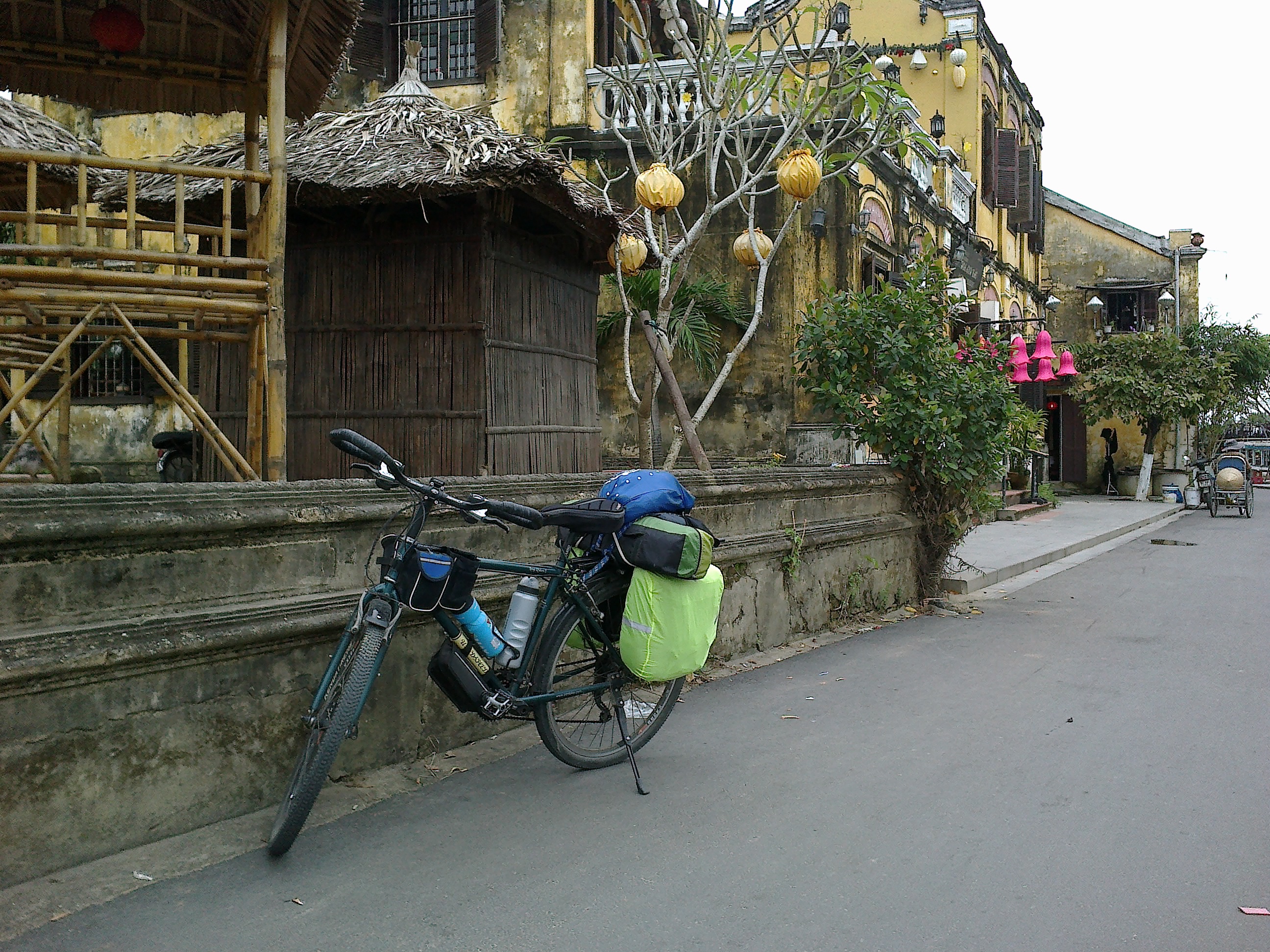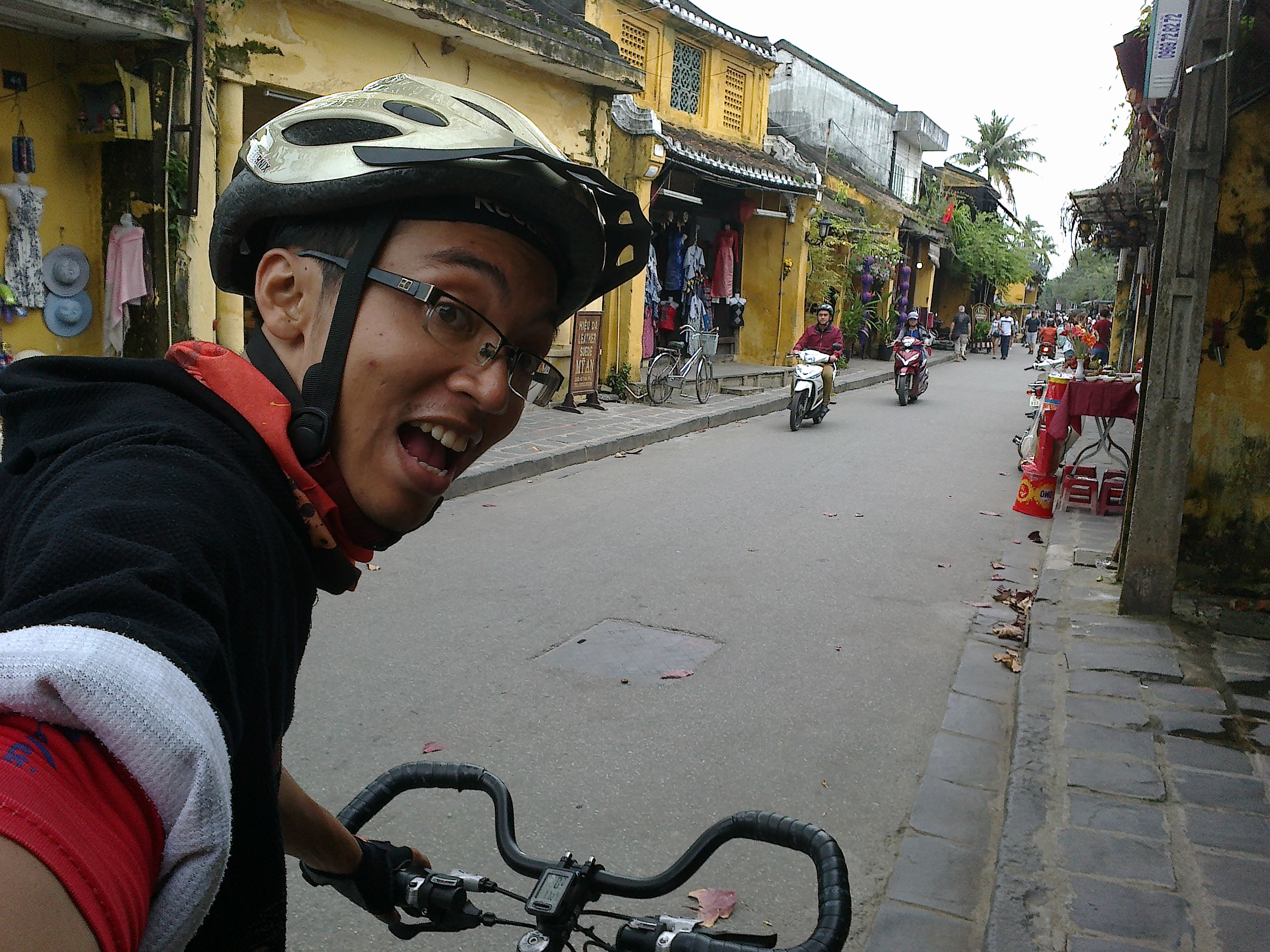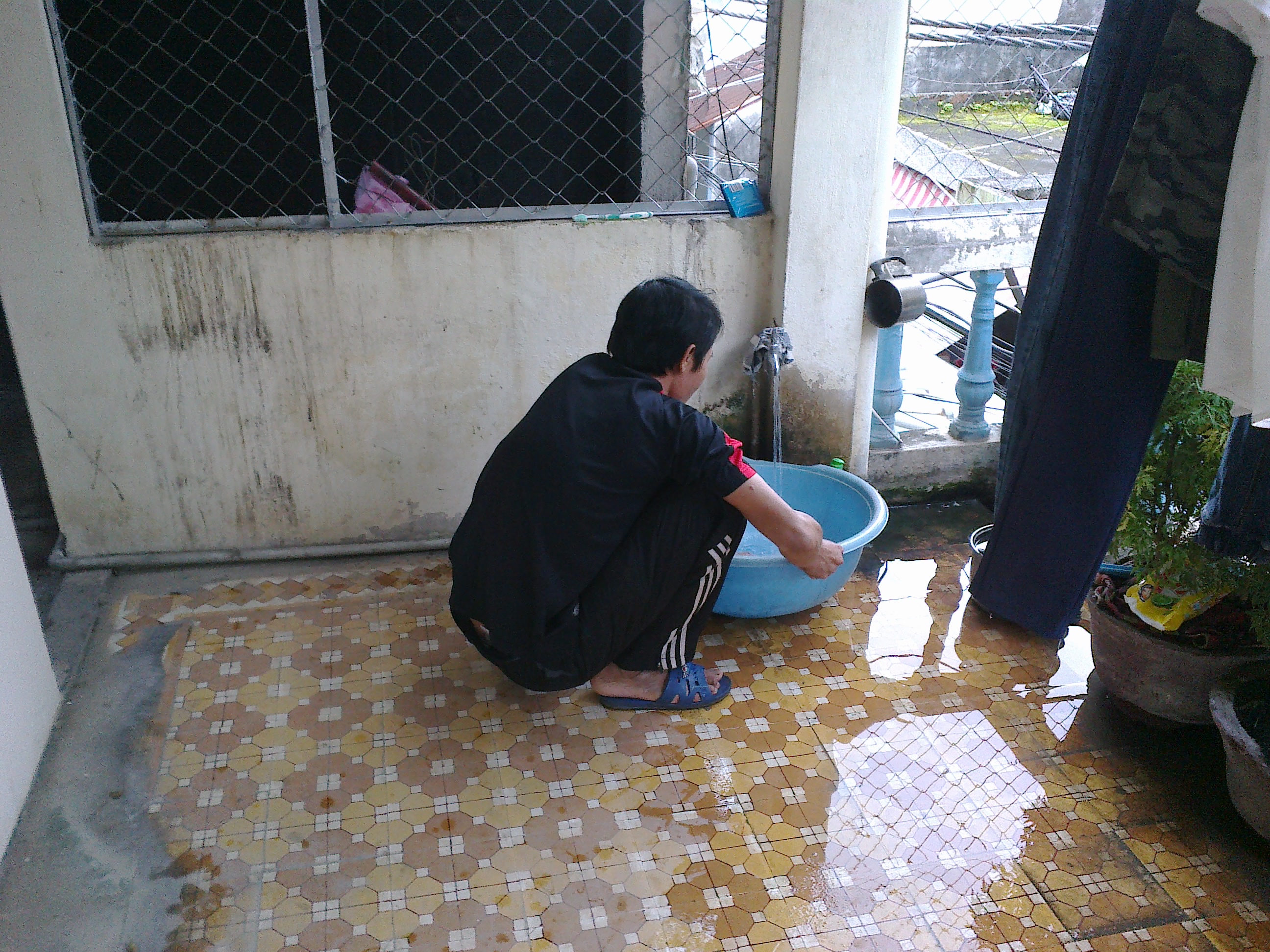 Day 14: Da Nang – Hue
I left my 3-kilogram tent at Daddy's room then headed to Hai Van Pass. When I reached Hue, the Hotel Cyclist's owner asked me to stay at his hostel. How to say? It is great 🙂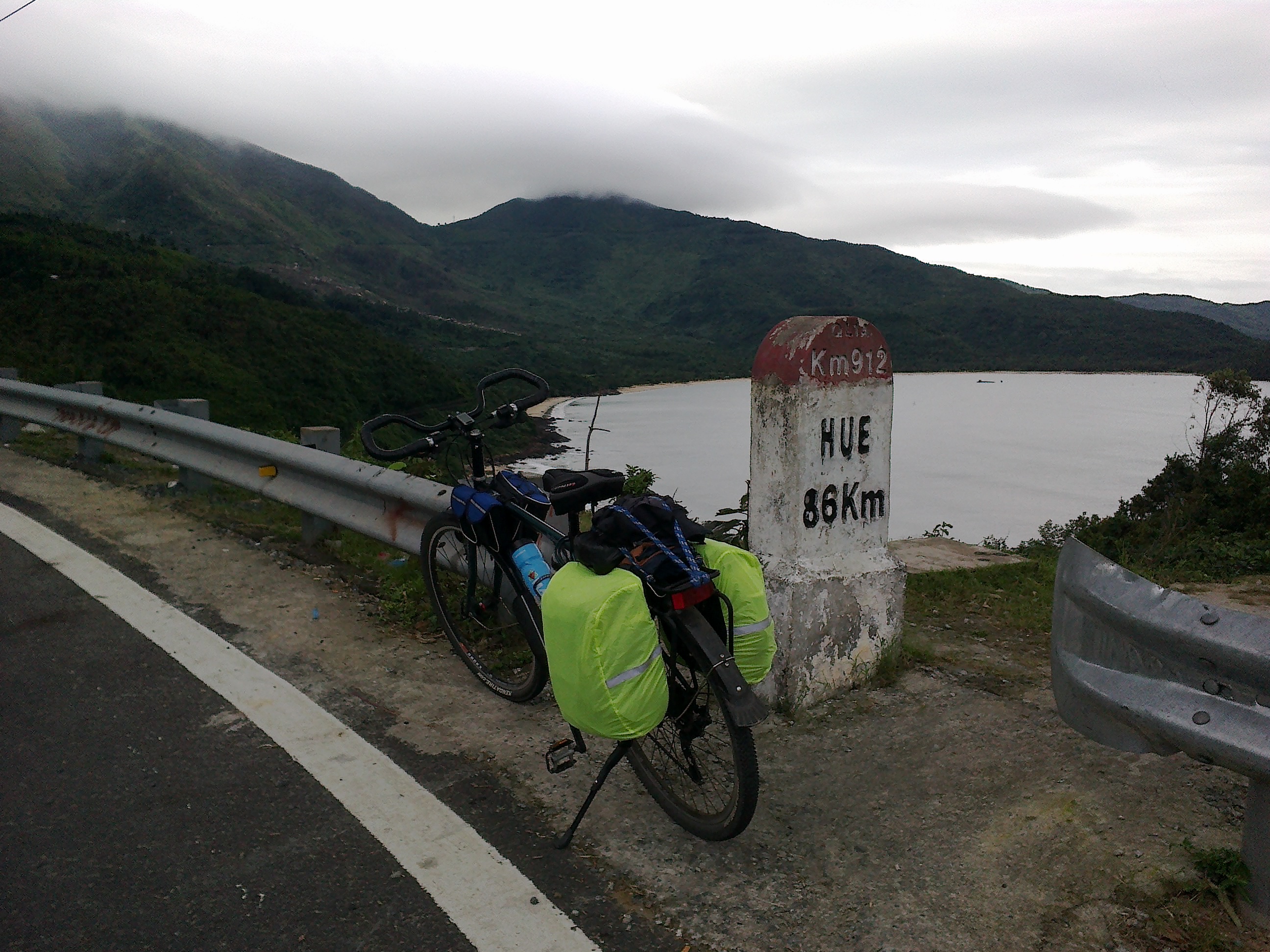 To those who love riding bikes: If you come over Hue City, come to 27/8 Ha Noi Street. There are a lot of cyclists from all over the world gathering there. For sure you will have unforgettable experiences staying there.
Next morning, the hostel owner took me to Thuan An beach.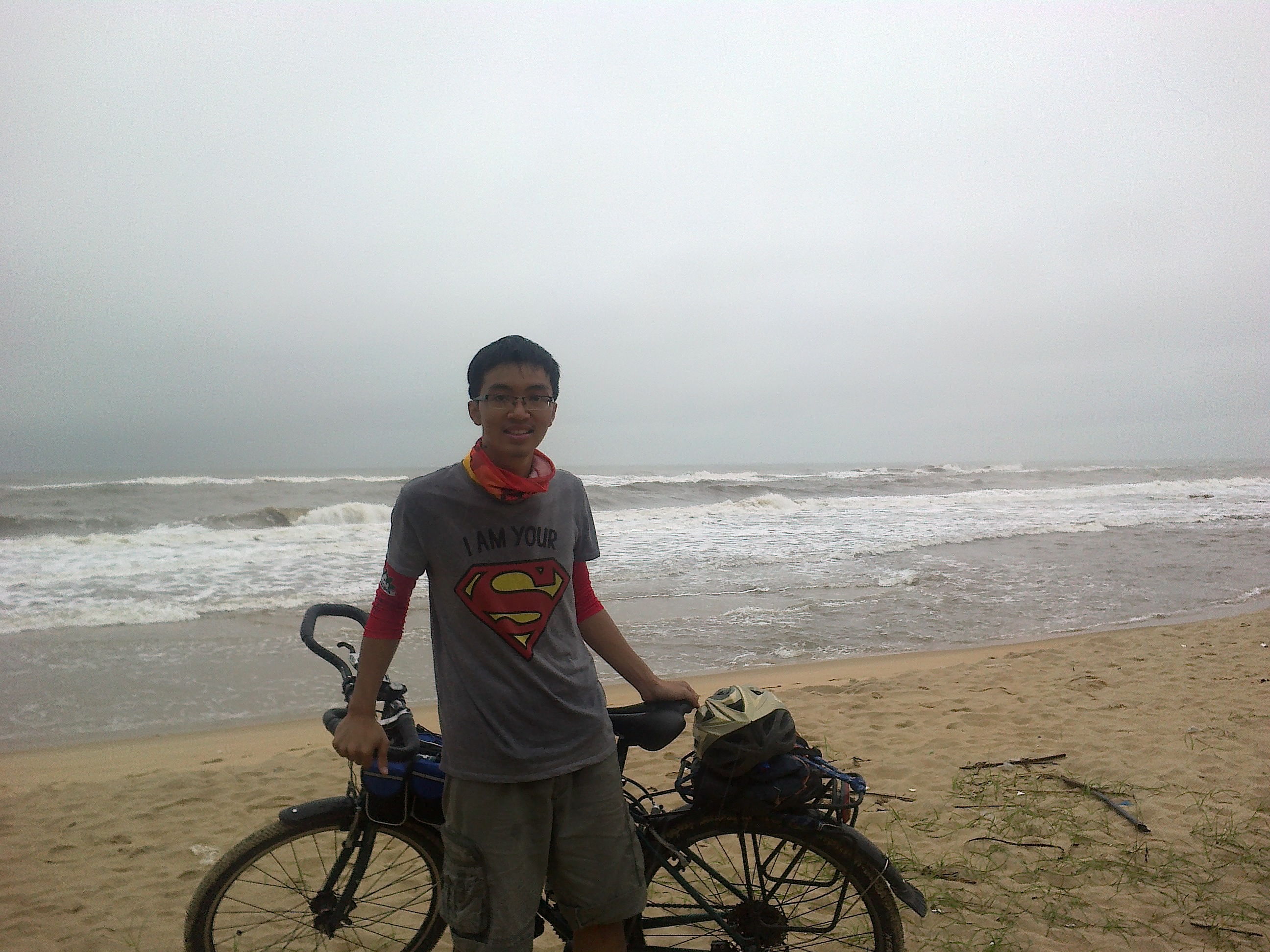 Day 15, 16: Hue – Quang Tri
Tadaaa, I got my HOME. My Mom stopped me from continuing the journey. I stayed at home for 1 day, unable to stay any longer.
It took me 3 hours to persuade my Mom to let me go again. And she finally said YES!!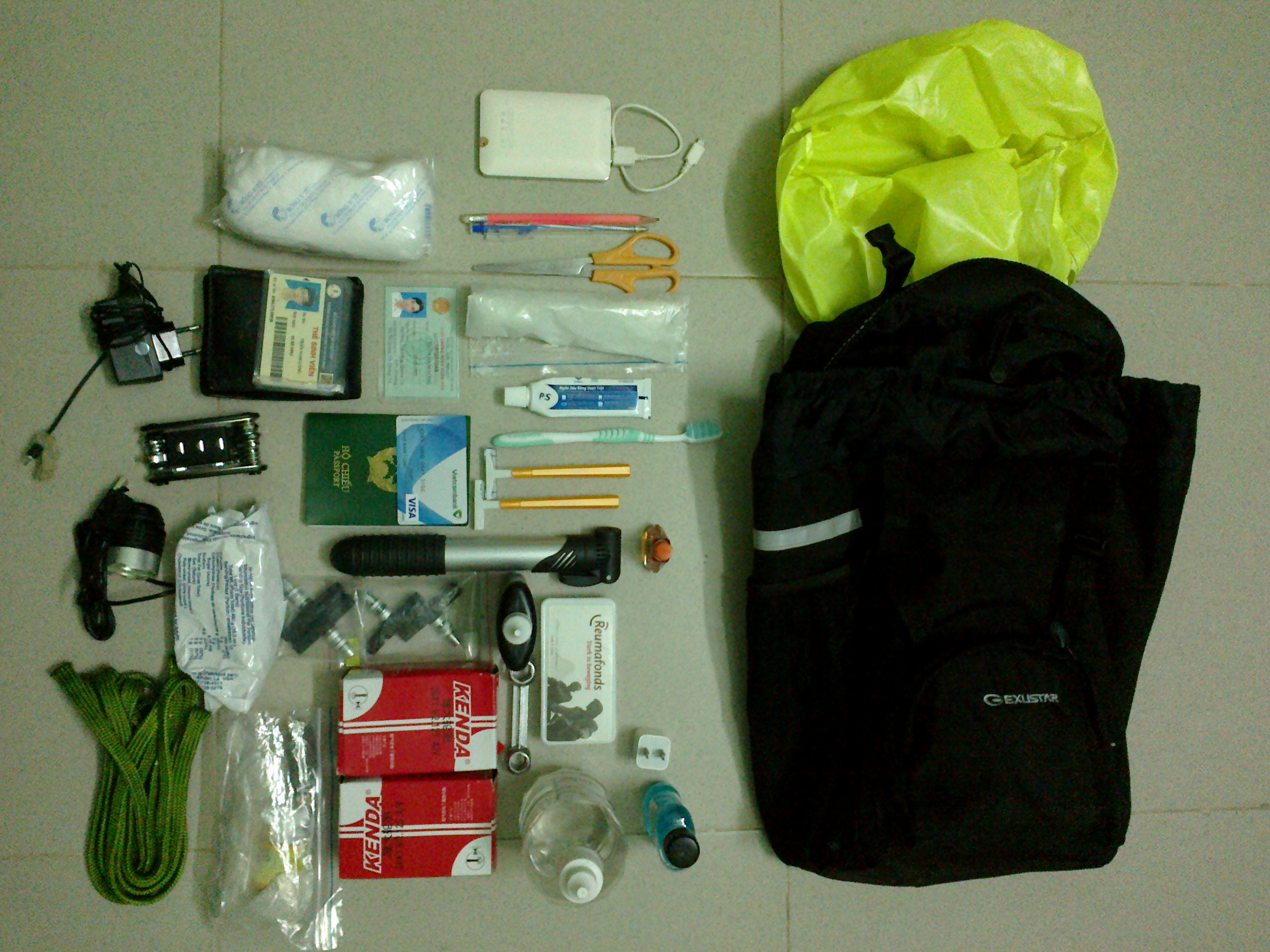 Day 17: Quang Tri – Quang Binh
I am not bringing my tent with me. The saddle wrap either. It rained for almost days, then I spent nights at hostels, friend's relatives' houses.
Quang Binh is famous for Phong Nha Cave. but I had a chance to visit it before. So I decided to pass through Dong Hoi City to see around.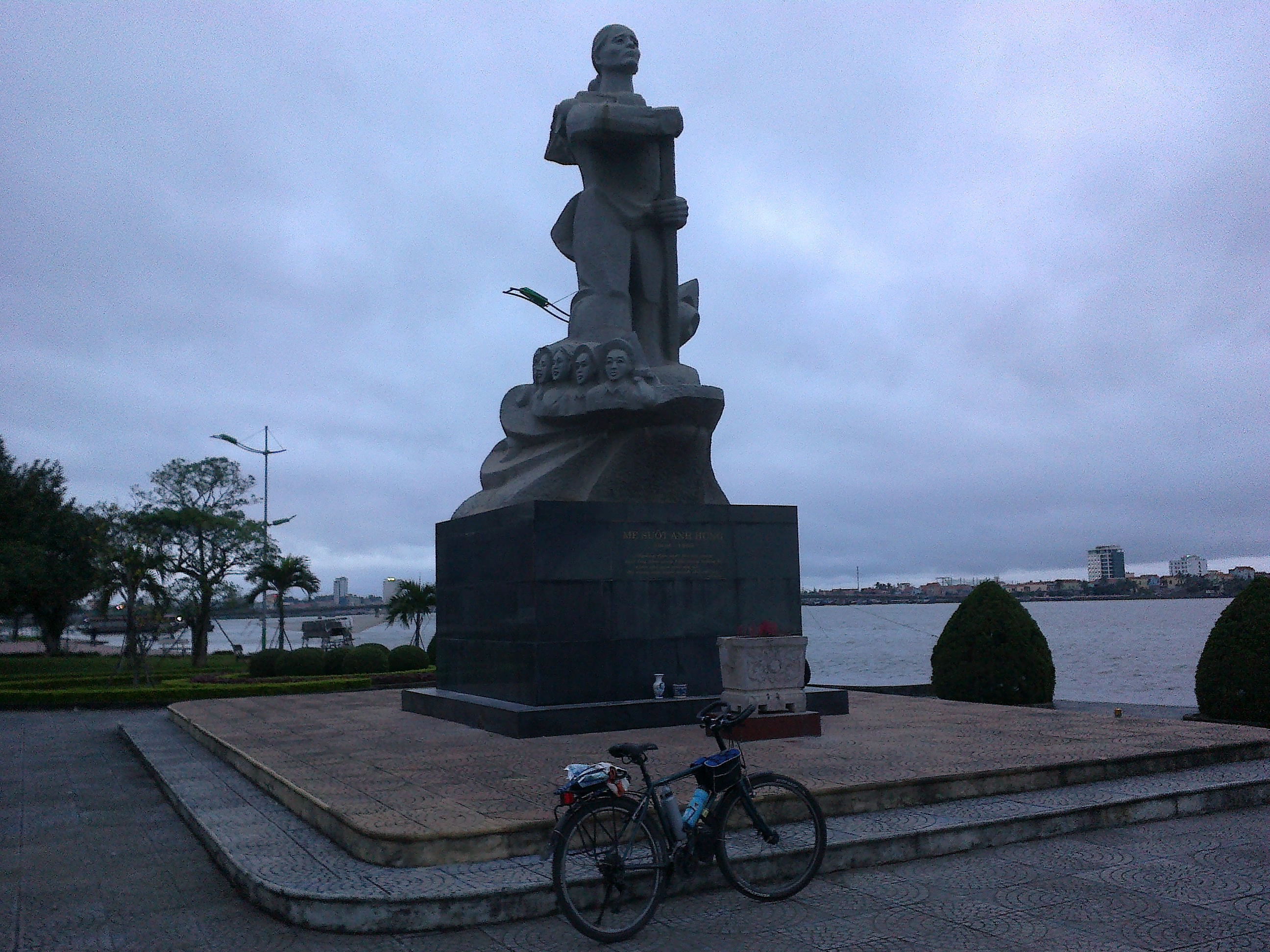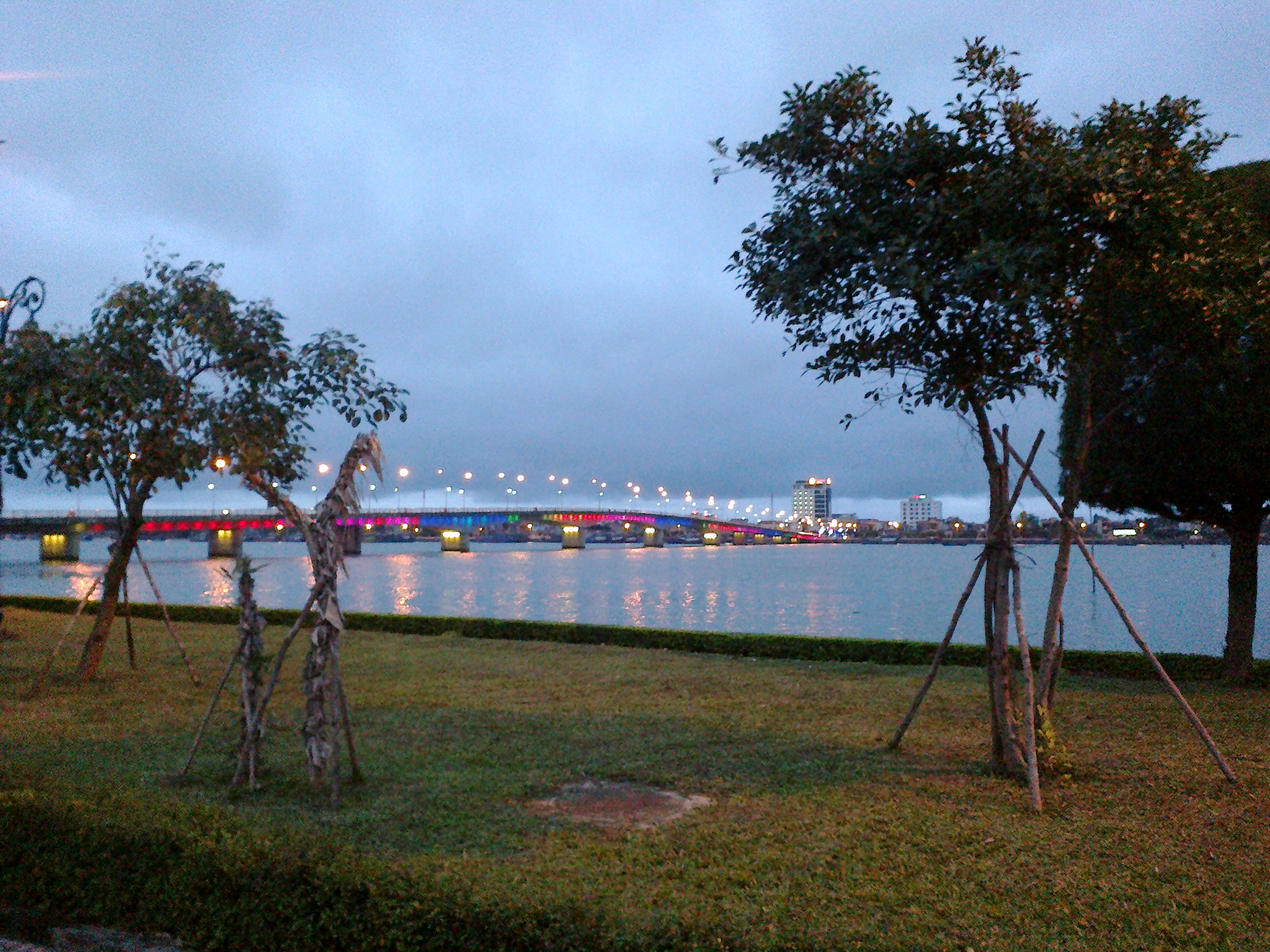 Day 18: Quang Binh – Ha Tinh
I came over General Giap  Tomb, Vung Ang and Formosa Factory,… Ngang Pass was on an empty day that day… And I had mixed feelings that day.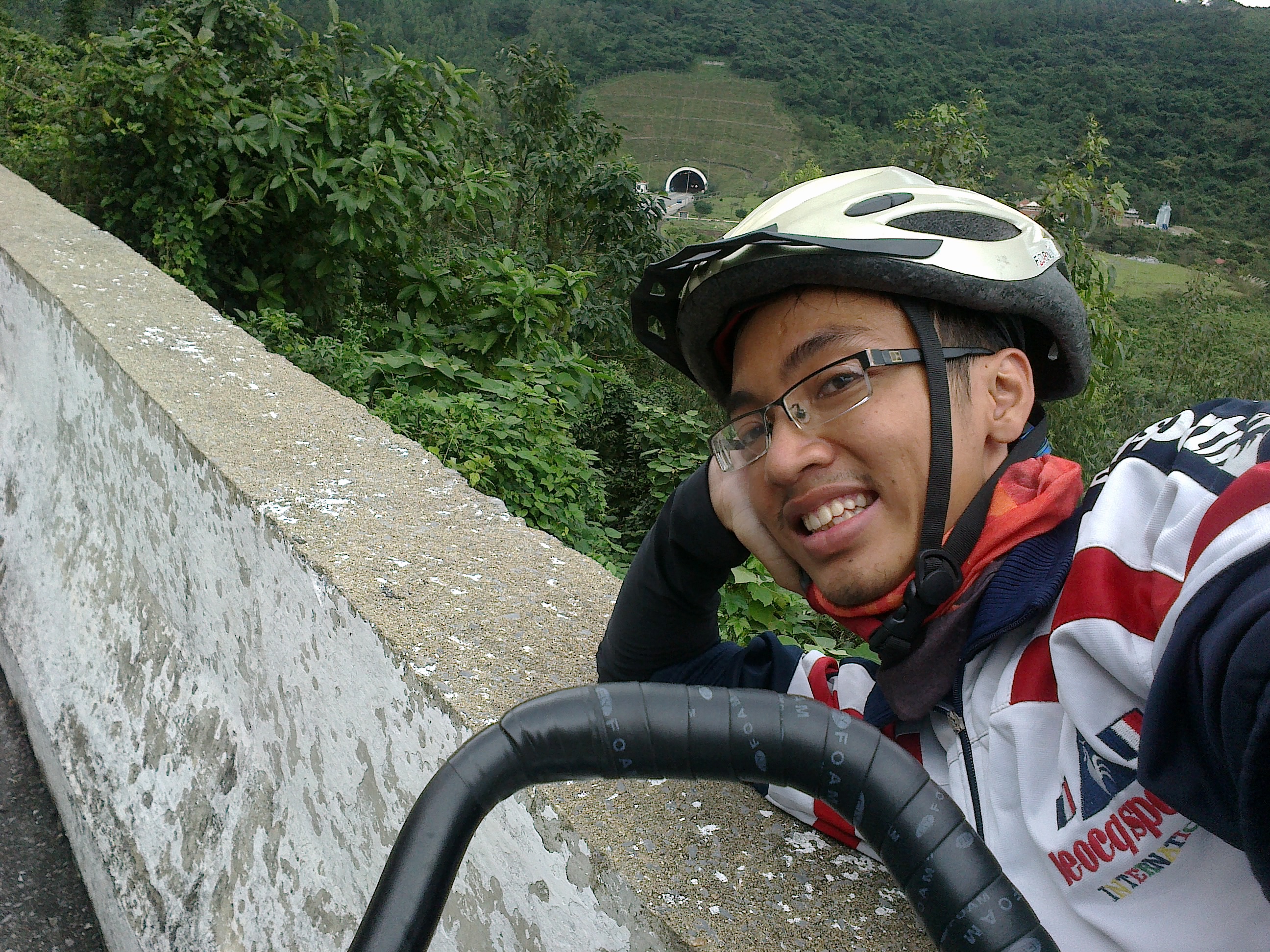 Day 19: Ha Tinh – Vinh City
I have a relative in Vinh City and I stayed at her house that night. She prepared sticky rice for me the next day :). It rains cats and dogs all day and I cannot go anywhere.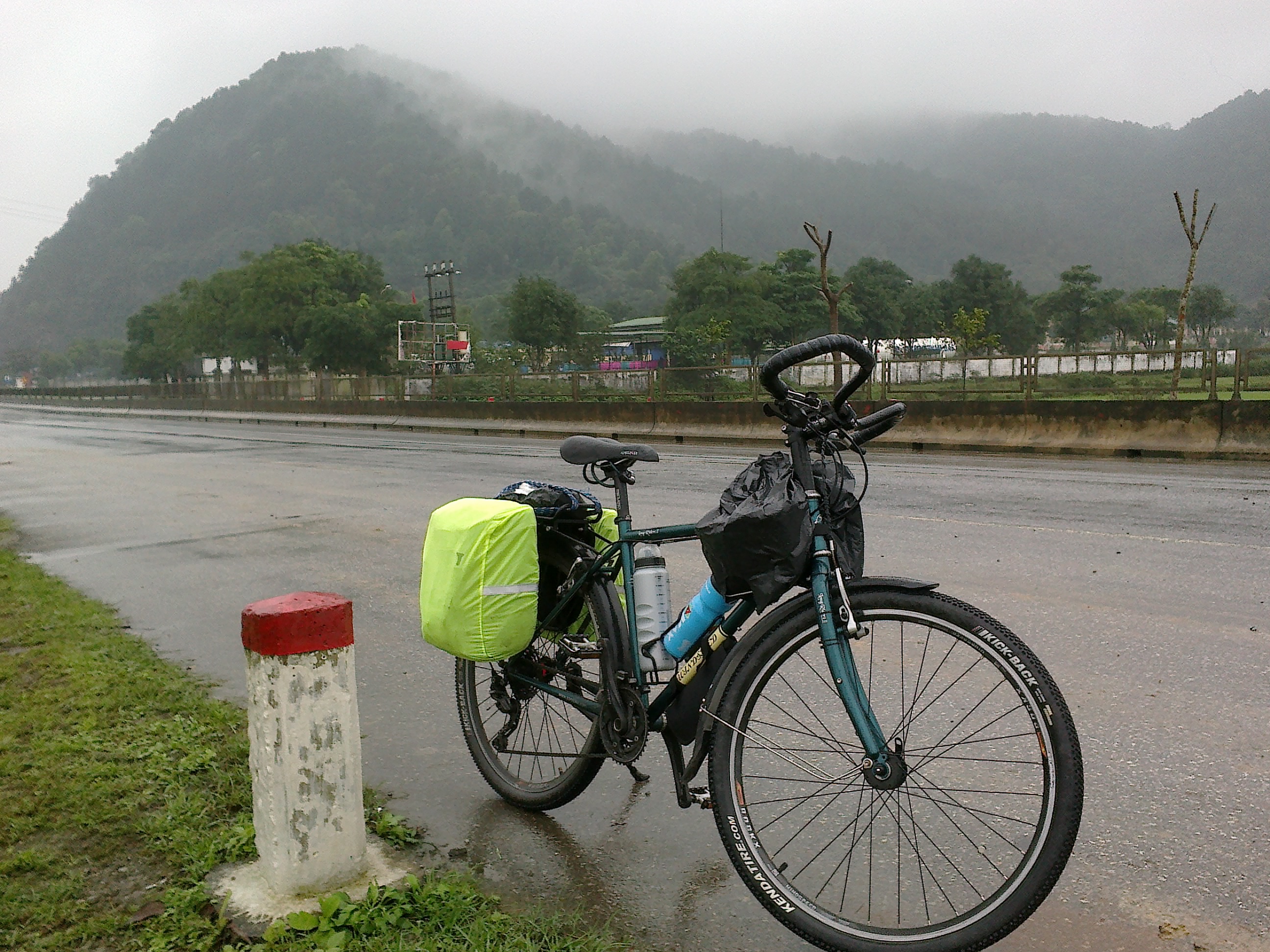 Day 20: Vinh City – Thanh Hoa
Before the journey, I am afraid of this moment: coming to Thanh Hoa. I had not come to Thanh Hoa before, and it is said that "Thanh Hoa is full of trouble". I personally see that Thanh Hoa is still as normal as other provinces. That night I stayed at my friend's house. I knew her since we were college students in Ho Chi Minh City. Her family is kind and hospitable. I was served Bun Cha Ca at Cong market the next morning. Delicious!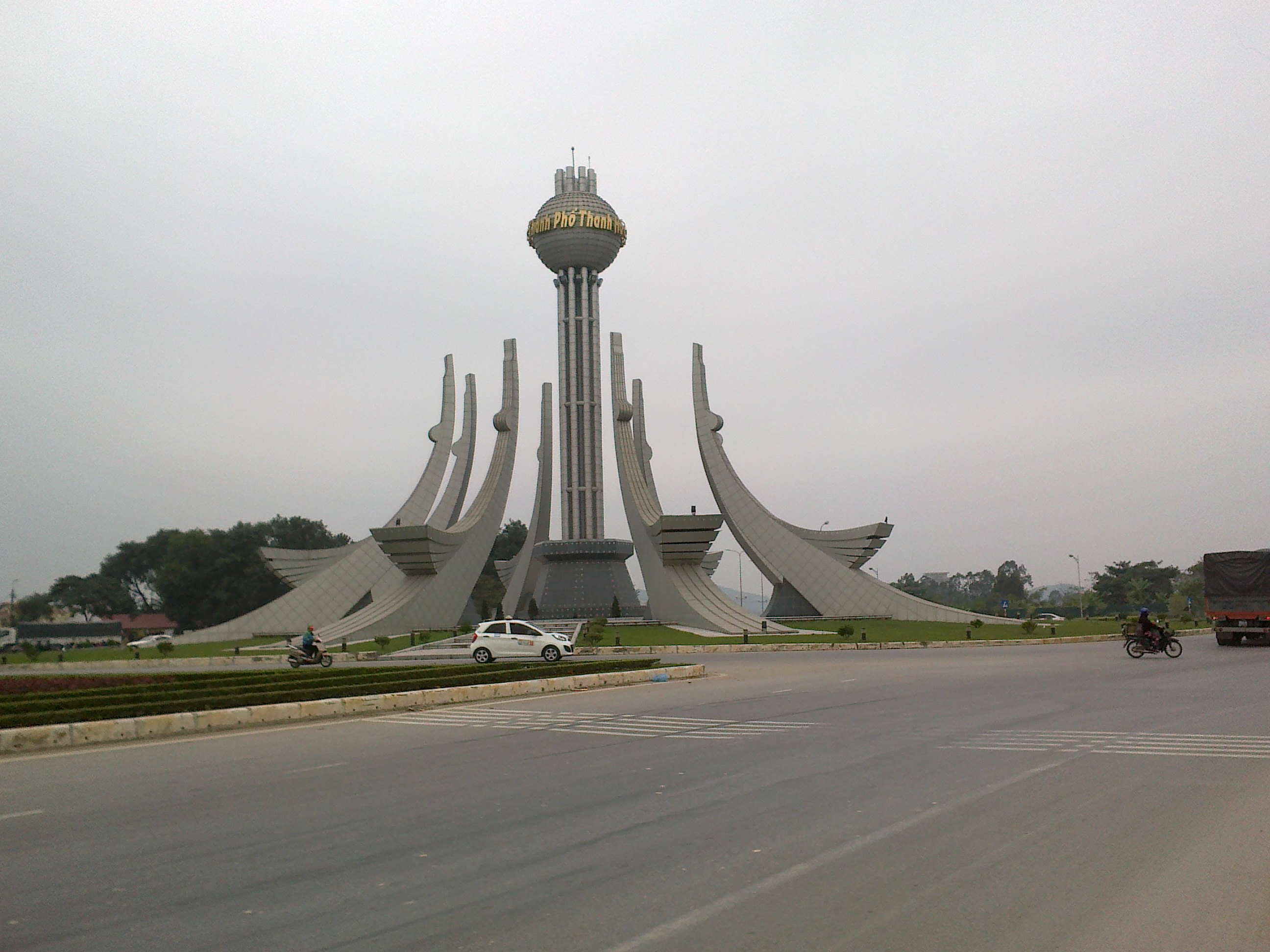 Day 21: Thanh Hoa – Ninh Binh
It was an emotionally unforgettable day. Ha Noi is nearby and Ninh Binh is magically spectacular. On that day I rode as a superman, visiting Tam Coc Bich Dong – Trang An – Hoa Lu Ancient Capital… It was late when I tended to come to Bai Dinh pagoda, then I hadn't come.
My heart was burdened at the end of that day. I rode for 130 kilometers already but it is like nothing. And it is just 80 kilometers away from Ha Noi. Is that The End?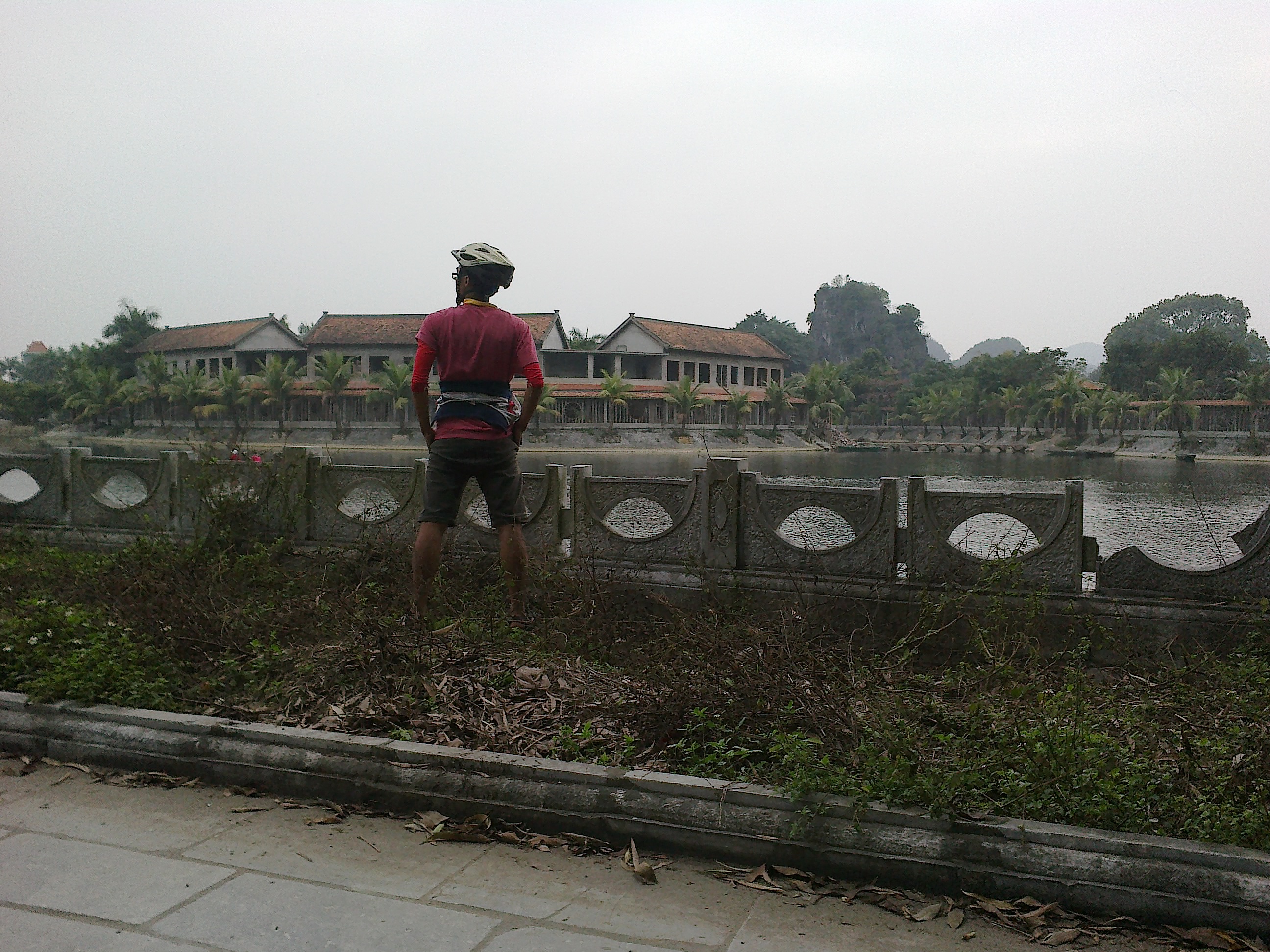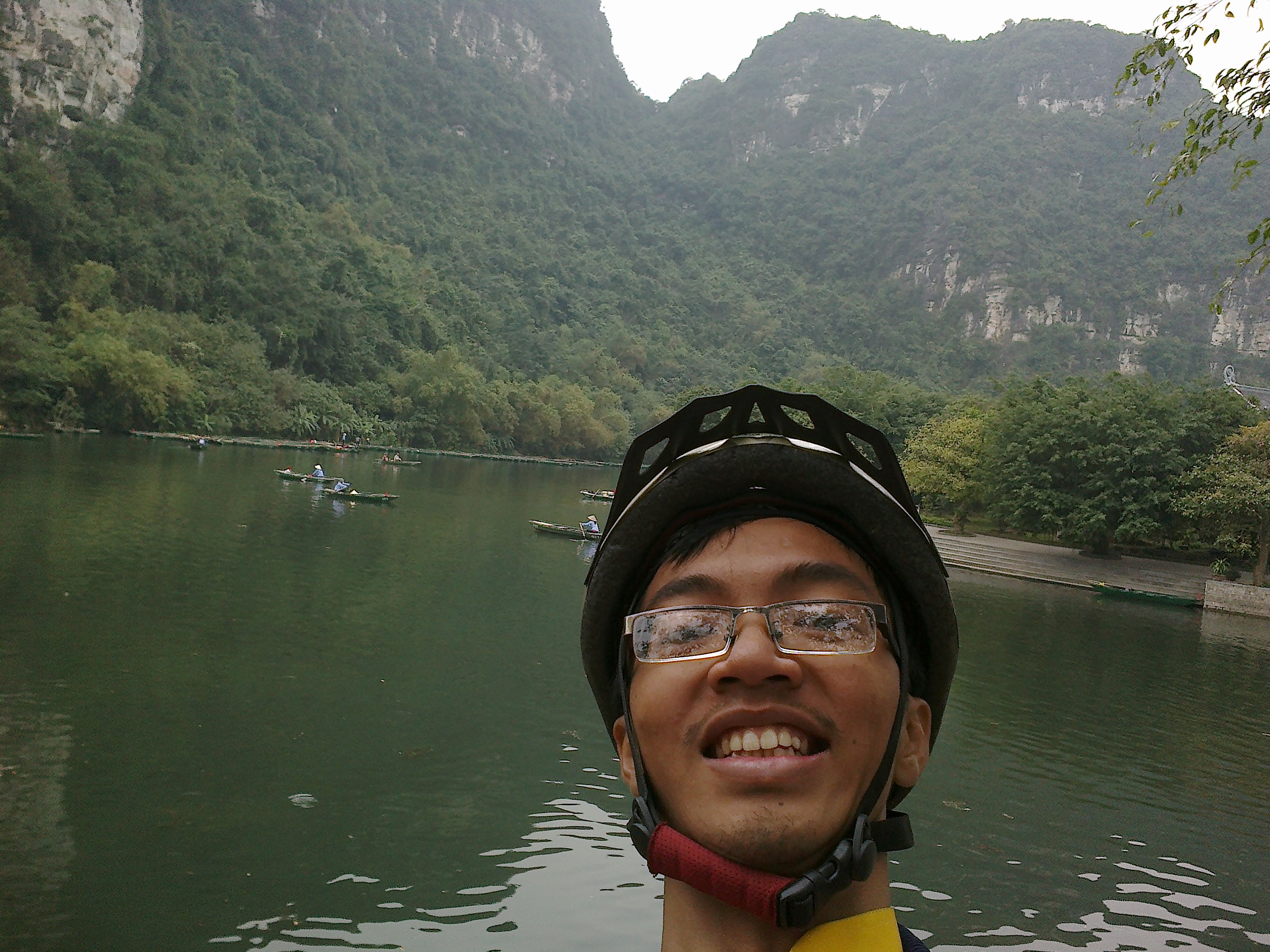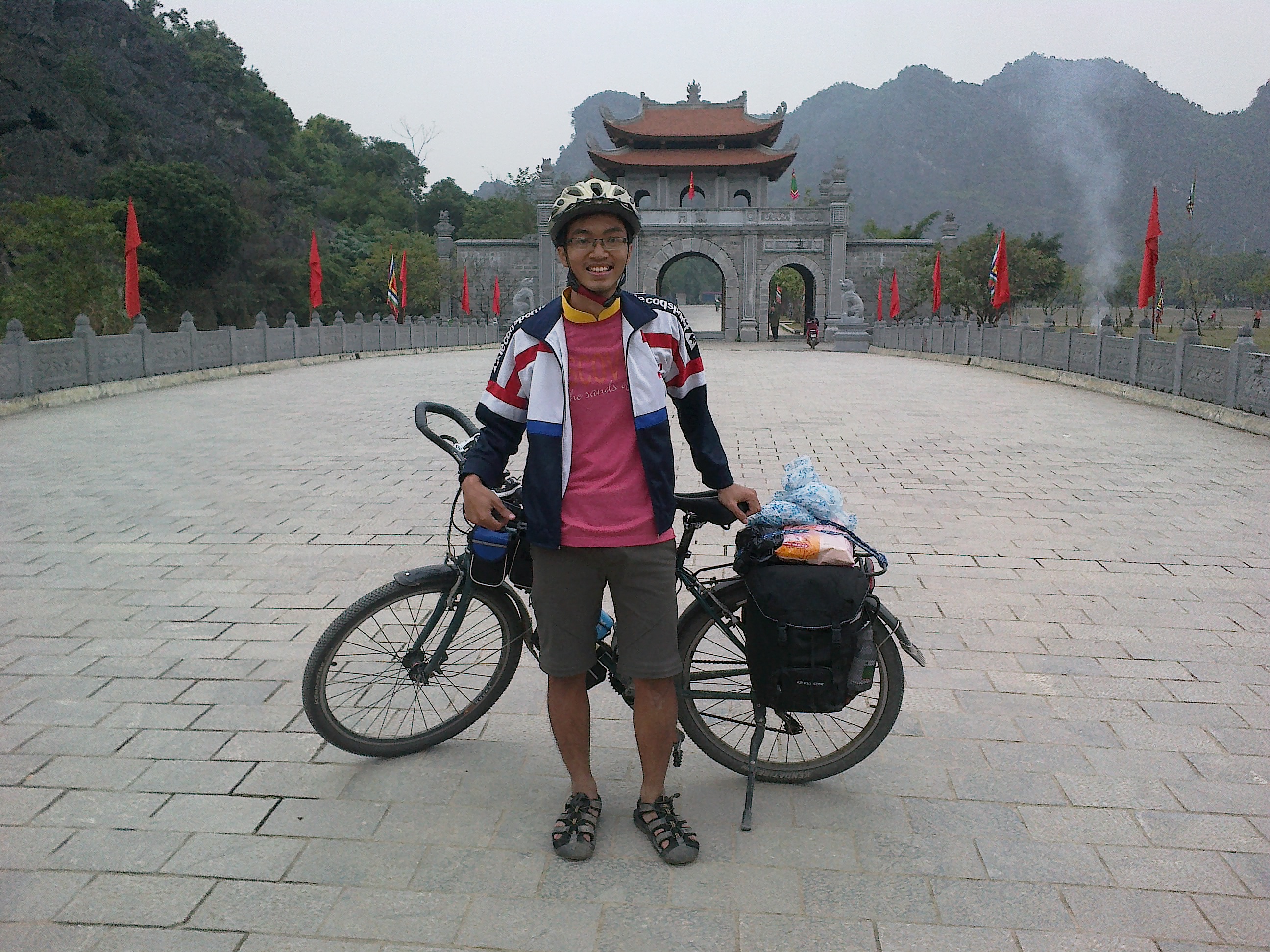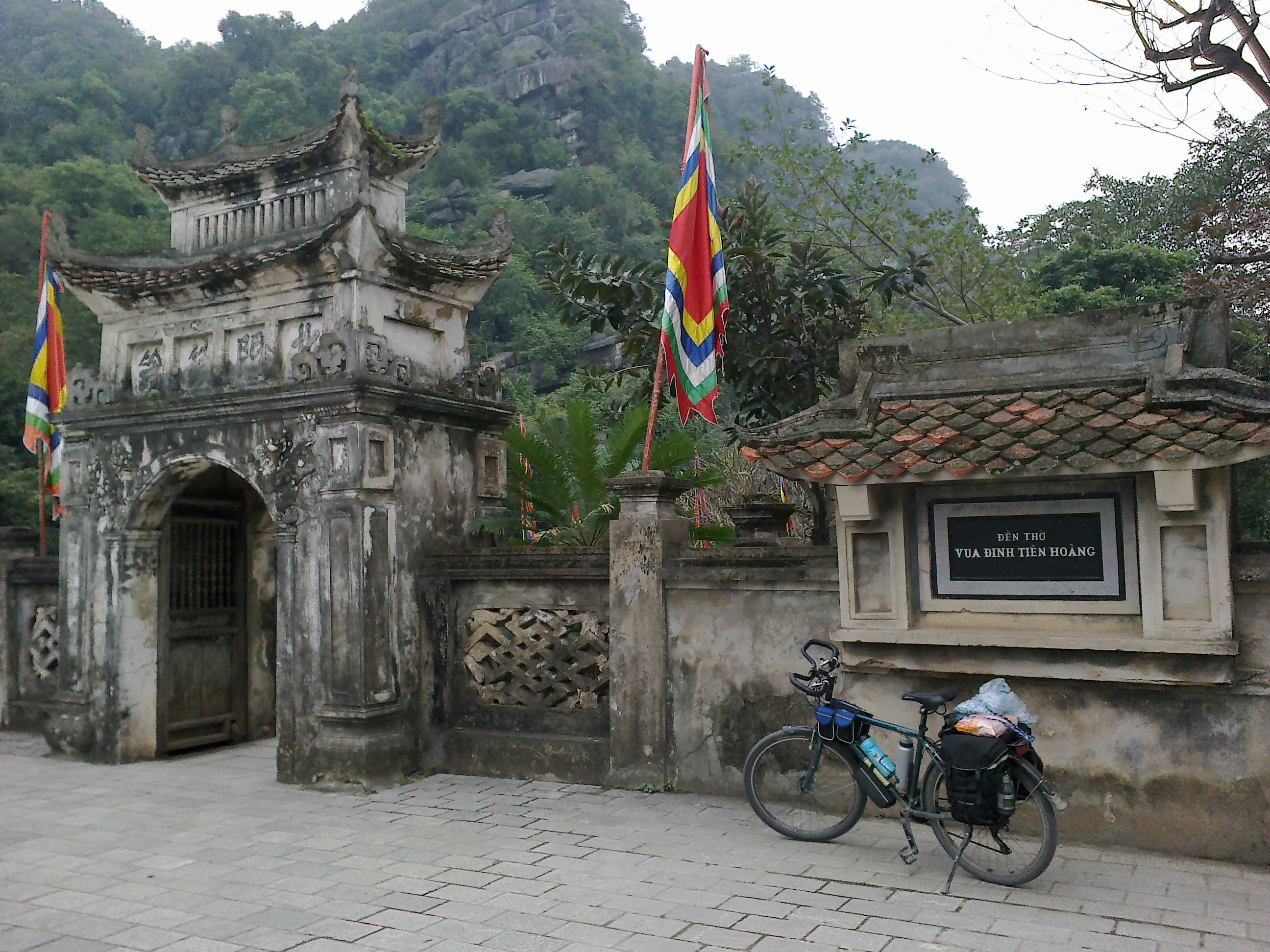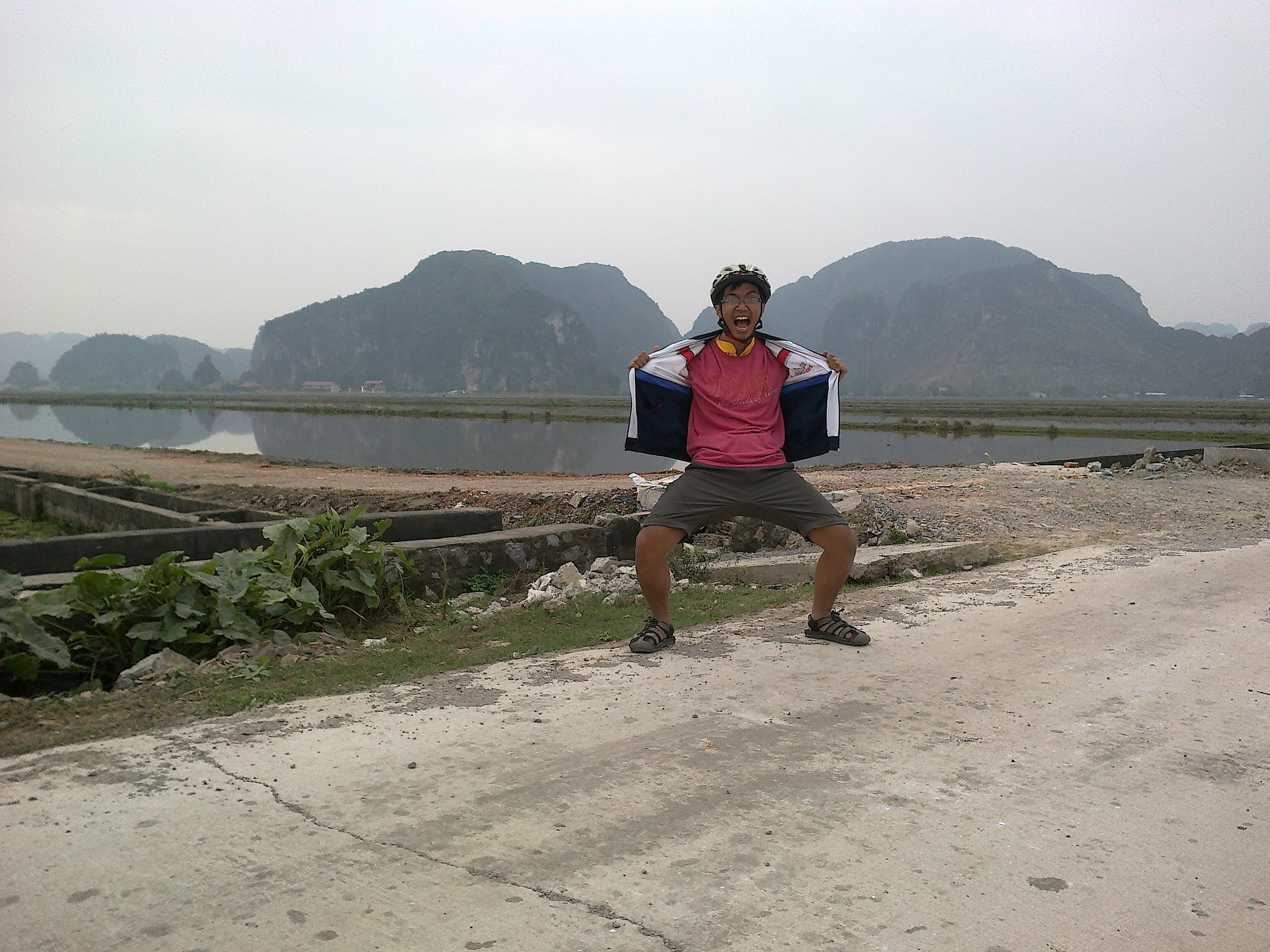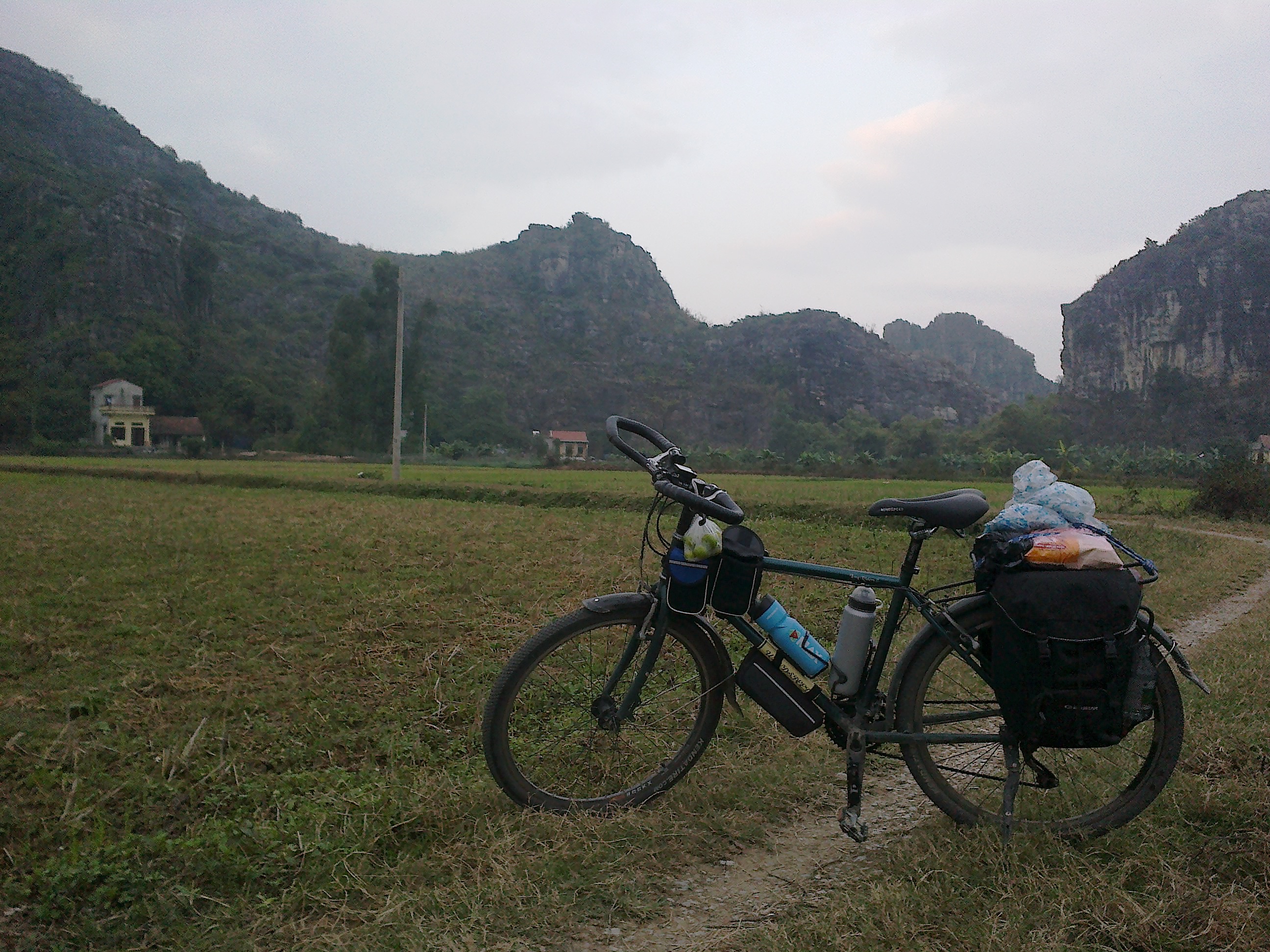 Day 22: Ha Noi
Ya, it is actually the end of my journey. And you know what? That moment I just wanted to start again 🙂